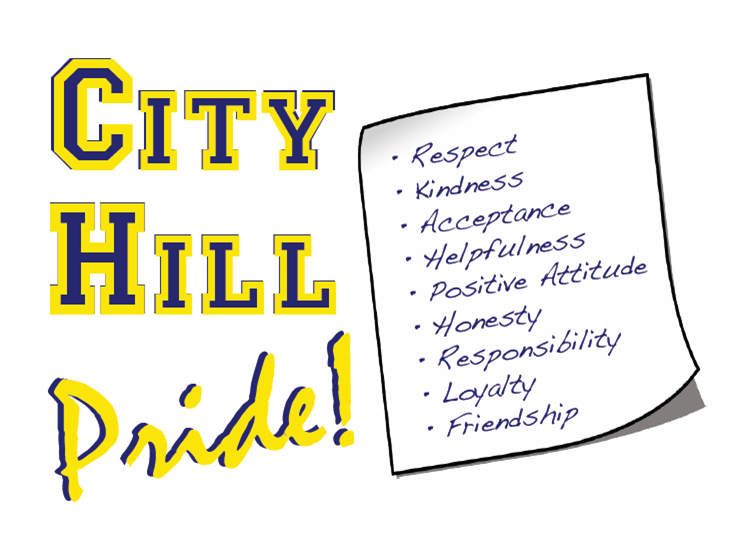 City Hill Middle School
Thursday, May 28th
City Hill Middle School Faculty/Student Softball Game
Monday, June 8th at 6:00 p.m.
Naugatuck High School Softball Field
Tickets are $2.00 per student/$5.00 per adult
Tickets will be on sale beginning tomorrow Wednesday, May 27th during lunch waves
Softball and Baseball Today, 5/28 at Breens vs. Long River
Friday, 5/29 at Breens vs. Torrington
No Track Practice Today, 5/28
Practice Friday, 5/29 from 2:15-4:45
Tape Mr. Hendrickson to the wall".

The Governance committee is trying to raise money to purchase enough books so that we can have a whole school book read. Students can purchase tickets in either homeroom or during lunch. There will be different prices for different types of tape i.e. a piece of plain duck tape might be $2.00 a strip and patterned duck tape might be $4.00. Students will be given a ticket for each strip that they purchase and the tickets will be traded in for a piece of tape on the day of the event. There will also be a special piece of tape that will auctioned off to cover Mr. Hendrickson's mouth. Parents can also buy a ticket to the event and purchase a piece of tape. The event will take place Friday, June 5th in the gymnasium, time TBA. The committee is still working on some of the details and they will be shared with you as soon as they are confirmed.
Thank you for your support!