City Hill was the recipient of a $500 grant from Exxon Mobil to be used for math or science instruction. Pictured are Assistant Principal Mrs. Chuka accepting the award from Sallam Mokbal from the South Main Street Mobil Station and Chris Markou, rep. from Exxon Mobil. We thank Exxon Mobil for their generosity!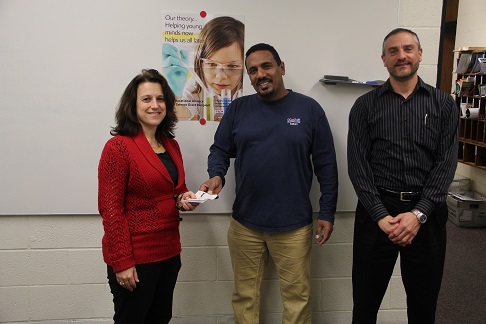 Smencils will be on sale during lunch waves in the cafeteria for $1.00 each.
Proceeds will help defray cost of field trips and other activities sponsored by the PSA.
City Hill's Aquabots did a great job at the Regional Seaperch competition yesterday, which took place at Plainville High School. They competed against 15 other teams throughout Connecticut for the chance to represent Naugatuck at the national final in May. Unfortunately we didn't qualify, but the students did a great job, maneuvering their robots through some very tricky challenges, finishing in a very respectful time. Go City Hill Aquabots!
8th Graders: completed course selection sheets are due to your homeroom teacher by Friday, March 6th. Please make sure that it is signed by your parent.